[Archive] Pushing Daisy | Daisy Ducati | Elise Graves
Sep 26, 2014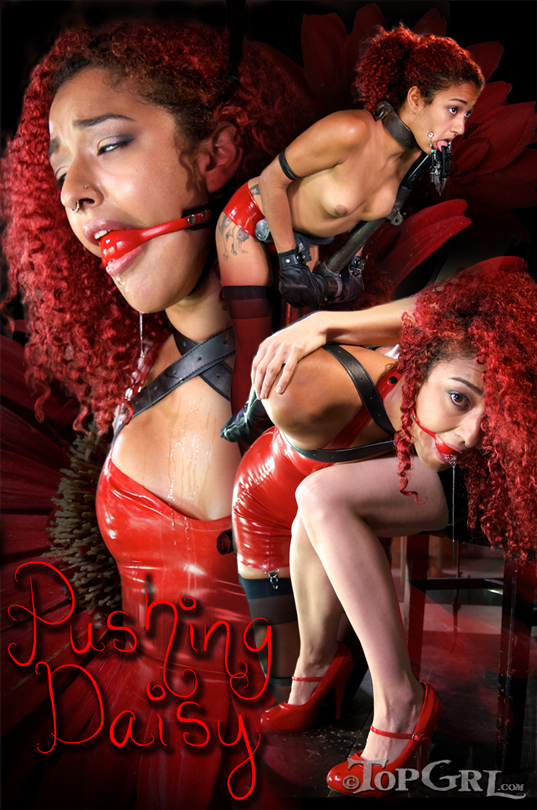 Daisy Ducati is the type of girl who likes to be pushed, not shoved. She likes to be seduced into dark alley ways, not garishly mowed over.

Daisy Ducati is a fierce female being. You must respect her.

There are many ways one can show their respect for such a woman. I choose to push her. Challenge her.

I ask Daisy to chase after the things I deem important. I instruct her what to do. This challenges Daisy, as she doesn't like to be told what to do. Ultimately, though, Daisy submits.

She submits to the opportunity to express herself - even if that looks much different that she had intended it to.

Daisy is used to being a controlled, confidant young woman, who is "milking her youth like a swollen prostate." But, here, we find Daisy uncontrolled. Here, she finds new corners in her familiar psyche. We witness Daisy battle a sense of panic, of discomfort and of pain.

With a girl like Daisy, be prepared to push her or what the hell is the point?


Franken-Pussy Part 3 | Daisy Ducati | Nikki Darling
Sep 6, 2014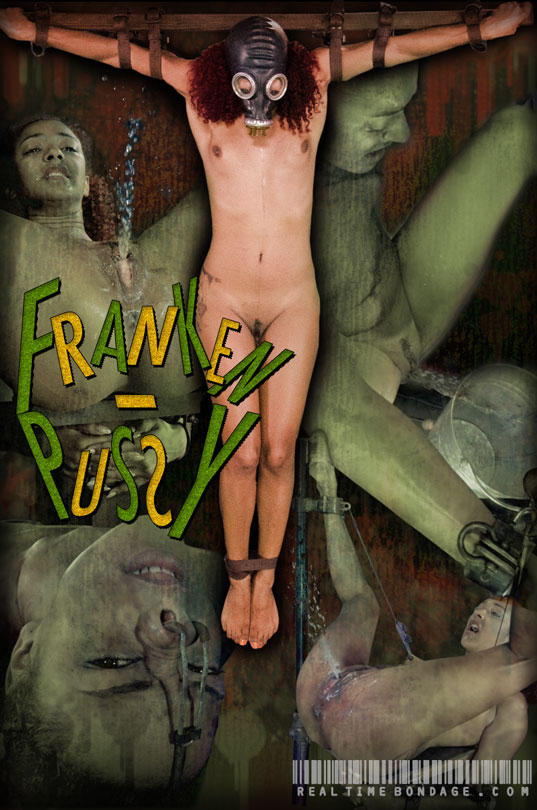 Daisy Ducati has it coming at her from both ends. Her legs are shackled high up into the air, there's nothing behind her head to keep it from falling back, and that means that her holes are lined up and completely exposed. We've got plenty of cocks to ram inside of her; big, black, rubber ones. They are just the warm up, though. We know from experience that Daisy is a squirter. It just takes the right amount of stimulation to make her blow like a geyser.

So what's the right amount? How about having Elise fist her pussy while Matt hits her with the Hitachi? It works like a charm. In fact, her orgasms are so powerful Elise has to step out of the way or risk getting soaked in her pussy juices. It's the kind of show you have to see more than once, so they blast her pussy to a dozen Category 5 orgasms until she is so worn out she can't even lift her head anymore.

But we never let the girls end on such an easy feat. Daisy's next trick may just be indescribable. Part suspension, part crucifixion; part breath play, part electrical play; this torment has it all. It's no wonder that she has tears running down her face by the time it is over. We can be cruel masters sometimes. Oh, who are we kidding? We're cruel all of the time.
Franken-Pussy Part 2 | Daisy Ducati | Nikki Darling
Aug 30, 2014
We find our beautiful subject, Daisy Ducati, already bound as we dive back in to the hardcore BDSM action of RealTimeBondage. She's shackled on her knees, drooling around a ball gag, and in a terrible predicament. Mr. Hitachi is buzzing away at her clit and while she is on the razor's edge of orgasm our crew and members have determined that she hasn't earned the privilege of enjoying her own body yet.

It would be almost impossible for her to get off, no matter how much she enjoys pain, with everything we have in store for her. Our members have always enjoyed a bit of electrical play. Normally it comes with an interrogation but in this case we've decided to go in another direction. A metal dildo is crammed inside Daisy's tight pussy and electrodes are hooked to it. We don't even bother taking the gag out to ask her questions. Instead we just set the control box to deliver random, high-intensity shocks to her pussy and let her scream into the rubber.

And RealTimeBondage shows only go in one direction. Once we have set the bar there is no going back and giving her an easier time. Our goal is to test this slut to her absolute limit. Getting her begging is just the beginning, by the time we're done this babe will be broken.
Franken-Pussy Part 1 | Daisy Ducati | Nikki Darling
Aug 16, 2014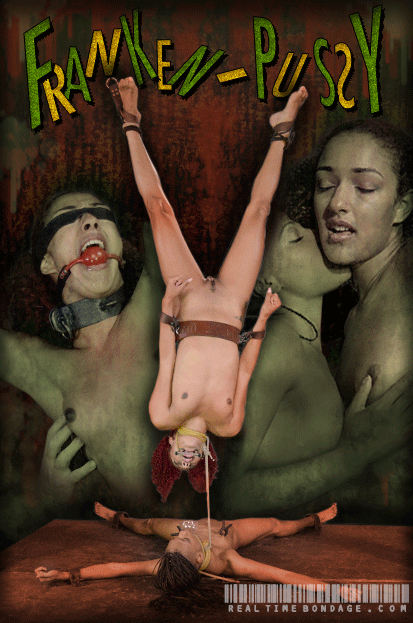 Welcome to the first ever RealTimeBondage dance off. It's a contest between two sexy strippers shaking their asses on our pole. Daisy Ducati and Nikki Darling make it a stiff competition. They take turns spinning their hot bodies around on the stage, showing off their flexibility and their assets. It's a good way for us to get a look at what we're working with today. And for their performances the girls earn a little pre-show orgasm. It gets them so hot they're literally tearing each others' clothes off to get to their pussies.

They're so into each other it gives us wicked idea. Nikki gets fitted with a funnel that will make anything we pour into it shoot right down her throat. Daisy, for her part, is fitted with a gag that has her drooling a stream all over herself. She gets put into an inverted suspension and suddenly that stream is going right into Nikki's mouth. It's a nasty bit of humiliation for both of them but it's only the start.

Everyone knows that the best part of a RealTimeBondage.com Live Show is the member interaction. We wouldn't be anywhere without the ideas that our viewers bring to the table. It isn't long before we start putting their advice into action. They come to our forums or our chat rooms to give us their sickest suggestions and we love how shocked the girls are when we make them happen.
Fit redhead Daisy Ducati
services 2 big cocks, sucks
and fucks, epic deepthroat and
a brutal hogtie! | Daisy Ducati | Matt Williams | Jack Hammer
Jun 16, 2014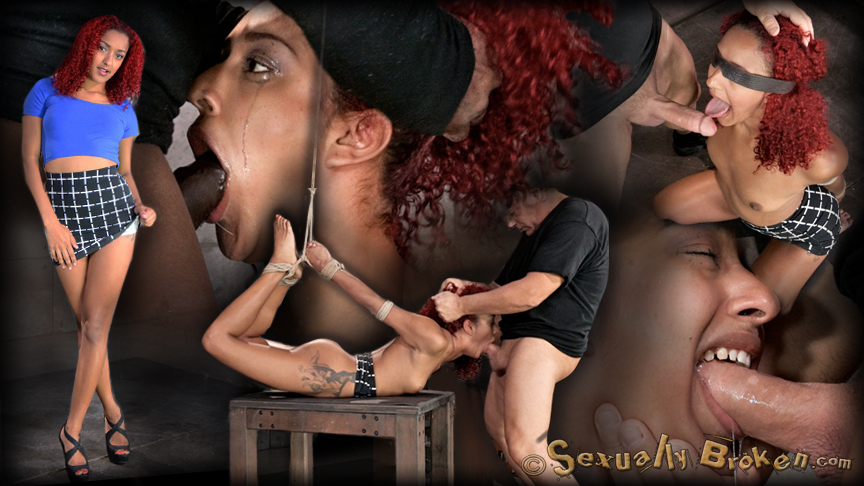 Daisy Ducati is a tall sexy readheaded slut with a passion for both cock and bondage. Lucky for her, that happens to be exactly what Sexuallybroken specializes in. To assure that she gets her cock fix, we are bring not one but two dicks to the table today.It doesn't matter how feisty they are, bondage and dick always wins out in the end.

We start out with some proper warm-up. In this case, warm-up means slamming her blindfolded, gagged ass to her knees and cutting off her clothing before removing the gag and reshaping her tight little throat with hard cock. The blindfold amuses us for a while, cutting off her vision so that she has no idea which cock is coming at her next, but eventually we rip it off so Daisy can look up at us with those big brown eyes while we own her throat meat.

Shifting Daisy onto our fuck table, we bend her over and proceed to rag doll fuck her all over the place, from every angle and possible position. It is a field day on her exposed holes. At all times she has at least one dick firmly lodged deep inside. We take both sides of this redheaded slut and chinese finger trap her with dick, attempting to meet in the middle.We fuck her hard enough that her eyes are rattling in her skull.

Time to seal the deal. Quickly tying Daisy well-fucked body into a brutal hogtie on top of the fuck table, we arch her up into a unforgiving position. The strain is evident across her pretty face as she suffers for us. What a perfect piece of fuckmeat this one is...